Using WordPress as a website is fairly simple, but you won't get the most out of your new website unless you follow several steps from the start. Anyone can build a WordPress website from scratch within minutes, but to build a successful website is another story altogether.
1—Plan Your Website First
Before you start using WordPress as a website, you should create a site map for your website. Decide which pages you're going to create and how they'll be related to other pages.
Creating a site map will help you create the menus visitors will use to navigate your website. For example, if you're using WordPress as a website for your business, your site plan might look similar to this plan:
•     Home page
•     About Us
•     Products/Services
–    Product/Service #1
–    Product/Service #2
–    Etc…
•     Why Buy From Us
–    Reviews & Testimonials
•     Frequently Asked Questions (FAQs)
–    Product/Service Questions
–    Ordering Questions
–    Etc…
•     Contact Us
•     Blog
Making a quick site map such as the one above before you get started will help you save considerable time designing your site—if you start without a map, you'll waste time redesigning the site each time you add a new major page.
(You can also hand a site map such as the one above to a copywriter and have him write all of the website text while you or your webmaster works on the site design.)
2—Choose A Theme
The stock WordPress theme is designed for a blog. That's not surprising, but it means that you'll have to find a new theme before you can start using WordPress as a website.
A good theme is one that makes it easy for visitors to navigate and read your website. It should look good, but its artistic design shouldn't make it hard for people to actually use your website—beware small font sizes, non-white backgrounds, and non-black text.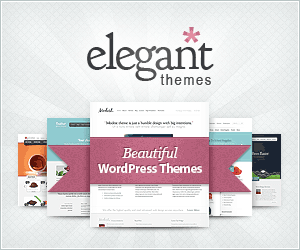 Before you settle on a theme, view it not just on your computer but on your tablet and mobile phone—an increasing amount of your traffic will come from these small-screen devices, and if your site doesn't scale down well, you'll probably lose those people as potential customers.
A great place for new websmasters to find a new WordPress Theme is on the Elegant Themes website. They offer 81 themes for a small yearly fee. The WordPress themes available include mobile responsive themes, WordPress business themes, directory themes, eCommerce themes, and more.
3—Create Menus
The theme you chose probably included menus on the top of the page or on the side. Now you simply need to use your site map to fill in those menus.
But what if your theme has a minimum or maximum number of menus which is more or less than the number of menus you need according to your site plan?
In that case, you either need to modify your site plan or modify your site. Most people will find it easier and cheaper to modify their site plan—try combining related topics such as "about us" and "why buy from us". But if you absolutely must follow your site plan, consider hiring a website developer to modify your theme rather than doing it yourself—advanced WordPress themes are easy to break, as I can attest from personal experience.
4—Create Your Homepage
When you start using WordPress as a website, your homepage becomes the keystone of your site. It's where most of your traffic will land and it's where site visitors will end up eventually if they stick around for a few clicks.
You'll probably spend about 50% of your website development time or money on just your homepage, and that's a reasonable percentage considering how important your homepage is.
But because your homepage is so important, it should be the first thing you create after choosing a theme and setting up your menus. That's because you're going to use your homepage to drive traffic to the other pages on your site.
Keep your homepage short—about 500 words—but make it powerful. Make sure people who read your page will become interested in your product or service (or in you if this is a personal portfolio site). If you have any budget at all, I highly recommend that you spend it on a skilled copywriter for just this page. (You can write the other pages yourself—describing your products or services should be easy, and writing FAQs is a breeze.)
5—Create Your Other Static Pages
Create the other pages on your website which won't often change: About Us, Why Buy From Us, FAQs, and the rest.
When writing these pages, it's a good idea to see what your competition writes on its pages:
•     Who do they say they are? Make sure you differentiate yourself on your About Us page.
•     Why do they say people buy from them? Explain why you're a better choice on your Why Buy From Us page.
•     What are their Frequently Asked Questions? These are probably the same questions people will frequently ask you.
•     How do they describe their products or services? How can you make your products or services sound more valuable?
6—Search Engine Optimization & Blogging
The hardest part of any website is attracting traffic, and using WordPress as a website can make it difficult to attract traffic—Google doesn't often refer people to small static websites.
But you do have an ace in the hole if you're using WordPress as a website—you can easily add a blog to your website. Just create a blog in your existing theme and post at least one blog a week.
Google will see your blog and start referring people to your posts. Every post you write is a chance to increase your monthly recurring traffic by a few more visitors.
7—Be Careful Of Comments
WordPress will let you add a comment box to almost any page, but I highly recommend against allowing comments on your static pages.
Some people leave stupid comments which make your site look bad. It's true you can moderate these comments out—hypothetically—but what do you do when one of your best customers leaves a stupid comment? Do you publish the comment to make the customer happy or do you throw it away to keep your site looking good?
It's easier to avoid a comment dilemma by turning off comments on any page which isn't a blog. (Visitors don't mind stupid comments on a blog if they know it's a blog.)
8—Beware Dead Ends
Whether you're using WordPress as a website or as a blog, you should watch for dead end pages. These are pages people visit but never leave for another page on your site.
For example, if I visit your Homepage, your About Us page, and then click on your FAQ—but then I don't click on any more links on your site, that makes your FAQ page a dead end.
Your website statistics tool will tell you which pages are dead ends. Take a look at these pages and try to figure out what's going wrong.
If the dead end pages don't attract much search traffic, consider turning them off (unpublishing them) for a few days to see whether people who visit your site are more likely to stay on your site if they can't access the dead end page.
How about adding internal links to your dead end page.
9—Alternatives To Using WordPress As A Website
But before you do any of the above steps, consider whether you really want to start using WordPress as a website. It used to be that I recommended against using WordPress as a website—I suggested people use Drupal or other software specially designed to be used for websites.
But now I see statistics which indicate that almost half of all active websites (including blogs) on the Internet are powered by WordPress and I think that there's a big advantage to using the platform everyone else uses. There are plugins, there's help, and there are WordPress basic tutorials such as this one which show you how to start using WordPress as a website.