Do you want to know how to speed up your computer but don't have a lot of time to spare? Try these five quick tricks to fix the main problems which slow down your computer.
1—Old Programs Make Your Computer Slow
Technically, a program installed on your computer uses nothing but hard drive space until it's activated. The problem is that many programs these days get started when your computer boots. For example, people complained that office programs took too long to start in the morning, so many office programs today start themselves in the background when your computer boots.
These background programs take up space in your computer's memory and also a little bit of your computer's computer processing (CPU) time. The less memory and CPU you have available, the slower every other program on your computer runs.
Getting rid of backgrounded programs is easy—for most programs. Just go to the Windows Control Panel, open the Add/Remove Programs wizard, and uninstall any programs you don't use anymore.
If there are programs in the Add/Remove Programs wizard that you don't recognize, consider removing them too. (If you're on a shared computer, ask the other users whether they use those unfamiliar programs first.) Any program which runs in the background slows down your computer.
2—Old Registry, Slow Computer
The Windows Registry has come a long way from the Windows 95 and Windows 98 days when a bad registry entry could crash your computer and your only solution was to reinstall Windows. But problems in the Windows Registry can still slow down your computer.
Most programs on your computer keep track of their settings in the Windows Registry. That way several related programs can share the same settings—for example, the registry tells programs on your computer which language you prefer to read.
But, when you uninstall programs from your computer—or upgrade to newer versions—the old registry entries don't necessarily get deleted. This leads to three problems which can slow down your computer:
Non-existant program entries: sometimes one program will try to open another program, such as a database. If that other program is gone, but the registry doesn't know that, then your computer will slow down while it tries to find the missing program.
Registry in memory: Windows often stores your whole registry in your computer's memory. This helps programs get information from the registry more quickly, but it also means that old registry entries are taking up space in your computer's memory which could be used to speed up active programs.
Extraneous queries: when a program looks up an entry in a database, such as the registry, it's called a query. When a program looks up information in an old registry, it's likely to get unnecessary information which it then needs to slowly filter into useful data.
Cleaning your registry on a regular basis is a key step in to how to speed up your computer. There are many great registry cleaning programs available on the Internet, and most of them take only a minute or two to run. They'll find broken or outdated registry entries and clean them up for you. You can get a free scan for your computer from Pc Pit Stops award winning Pc Matic software.
3—Anti-Virus, Anti-Speed
You should always run a Windows computer with anti-virus enabled (although sometimes I will suggest that you take a chance and turn it off to get the maximum amount of speed out of your computer). But you don't have to use the anti-virus's default settings.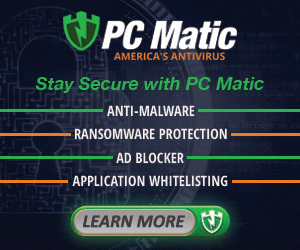 One thing most anti-virus software does which slows down your computer is scan your hard drive periodically for infected files. This is a very useful technique for finding the sneakiest of viruses, but virus scanning takes a lot of computer processing (CPU) power, which slows down every other program on your computer when it's happening.
Check your anti-virus settings to see what kind of control you have over hard disk scans. For maximum speed, you can turn them off and then run them manually once a week—just don't forget them!
A better solution for most people is just to reduce the frequency of automatic scans to once a week or to schedule the scans to run after you go to bed (if you leave your computer on overnight).
4—Taskbar Applets Slowing You Down
It's not uncommon for me to see computers today with three or more taskbar applets all dealing with wireless network settings. That's insane—every one of those applets takes up part of your computer's memory and computer processing (CPU) power, denying that memory and CPU to other programs on your computer which could use them to run faster.
Take a good look at the taskbar applets in the bottom right corner of your screen and decide whether you need all of them. If you don't, you have two options:
Uninstall them completely: go to the Add/Remove Programs wizard in the Control Panel and remove the applet's associated program.
Disable them from starting up automatically: use a startup manager program (available on free download sites) to remove the applets from the list of programs which start automatically. Beware, some programs reinstall themselves into the automatic startup list each time you run them manually.
5—Seeking A Faster Computer Through Defragmentation
Seeking is the word computer scientists use to describe what your computer does when it tries to find a file on your hard drive. Files can be stored on your hard drive in two different ways:
Fragmented: this is like a giant pile of old mail on your desk. When you go looking for your phone bill, you have to dig through piles of other junk to find it. I sometimes let mail pile up this way because it's faster than sorting mail when it arrives; Windows saves files in big piles like this because it's faster.
Defragmented: this is like keeping everything in a nice alphabetically-sorted file cabinet. When you need to find something, it's really quick—but when you need to save something, it's rather slow. Because it's slow, Windows doesn't defragment files on its own.
You can get the advantages of defragmented files (files open more quickly) without the disadvantage (files save more slowly) using the simple Windows Defragment tool.
Open the Control Panel and start the Defragment wizard. Do this, preferably, before you go to bed at night so that it can run when you aren't using your computer. Let the Defragment tool sort each file on your computer into its proper place and the next morning you'll discover you've found another great answer to how to speed up your computer.
Install a program to do it all for you! Speed up your computer!
A software program will not upgrade your memory but it will clean out all the junk files, detect Malware, delete unused registry keys, Automatic Driver updates, and more.  At the moment I am using PC Matic to maintain everything for me. This software is amazing and has won a number of top awards. You can get a free scan for your computer to see how it works before you buy.
In this day and age it is important to have your computer running at optimum speed. Slow computers are not worth the hassle and just lead to more problems.