I am often searching on the Internet to the best WordPress themes package and I still haven't found anything better than the Elegant themes WordPress membership site. It does not matter what type of WordPress theme you are looking for, Elegant themes has it all. For example you might be looking for a real estate theme, a business theme, and e-commerce WordPress theme, a review theme, a blog theme, and so on. I could not possibly mention every type of theme that you get when you join the elegant themes website.
It does not matter if you build websites for a living or a total newbie to the scene, because Elegant themes suit everyone.
Best WordPress themes package by a mile
There are a few reasons why I would recommend this WordPress themes package to anyone. Here are a few excellent reasons:
It is an absolute bargain at $39 a year to get continued support and use as many things as you like. This means you can change your mind if you find something better.
The themes look so professional, it is not funny!
Becoming a member can save you thousands of dollars on hiring a Web designer.
Best WordPress themes package for a professional web designer
If you are a web designer by trade, it is a smart thing to have this membership under your belt. The Elegant themes website offers a developers license. This would allow you to use their themes in your portfolio. If a customer chose one of these themes it would make your job a lot easier. I know if I was designing websites or building websites for other people, I would definitely have some of the best WordPress themes in my tool collection.
Best WordPress themes package – Inside Elegant themes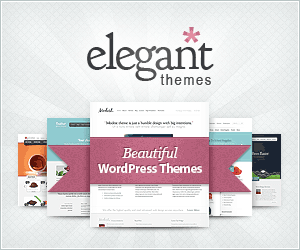 Watch my video below to see inside the elegant themes website. Take a good look at the quality of the themes and remember there will be no stress when installing these themes, as you can simply ask for help.
I personally am a member of this website and have used approximately 5 themes so far. They all have an easy to use Control Panel where you can upload a logo, set up a navigation system, change the colors of your website, enter some search engine optimization tags, and a whole lot more. It even has a spot to add the Google analytics code in, without having to enter into the coding of the website.
[yframe url='http://www.youtube.com/watch?v=RnSw5dVe_1A']
If you are thinking about building your first business website, then I highly recommend checking out the elegant themes available. You will be shocked at how professional your website can look after installing one of these themes.
Thesis is also a fantastic framework template for a WordPress website, however it is not a WordPress themes package as it is only one framework. See my article about Thesis vs Elegant themes.
I have written more about the best e-commerce WordPress theme at my other website. I definitely believe that elegant themes is the best WordPress themes package around, especially if you are not technically minded.