While recently browsing the web for some hot new computer jokes from up and coming stand up comedians, I came across a bevy of one-liners about something called Siri. After looking up the definition in a dictionary, I came to the conclusion that people weren't asking a "large spreading Old World tree with large leaves and greenish-yellow flowers" advice on the best route for travel.
I then came to the conclusion that maybe people were looking for answers from the prophet derived from Tom Cruise and Katie Holmes but that ended up being Suri, not Siri.
"Suri…find me directions to Cali-fornia." 
As it turns out, Siri is the electronic personal assistant that helps you get things done just by asking it. I wondered what the Samuel Jackson and Zooey Deschanel commercials were hyping but I just thought it was a new ironic show about Emo Snakes.
The reason Siri is such a groundbreaking development is because the technology understands natural speaking tones. Voice recognition software in the past required the person to talk like a robot or emphasize certain keywords in order for the software to recognize the command. In the time it took altering your voice and speaking in weird tones, a person could've simply looked up the information in a hardback encyclopedia.
Using Siri is literally like having a conversation with your husband or wife, but without much of the bickering. If you ask Siri to remind you something but without telling it all the pertinent details. Let's go to the John Madden Telestrater for a comparison:
Siri — 
You: "Siri, remind me to call my bookie"
Siri : " What time would you like me to remind you. Also, is Roger C. still your main bookie."
You: "Remind me at noon before the noon games and I've switched to Carl."
Siri: "OK thank you. I will make a note."
Talking with Siri is pretty seemless. If there's information the software can't access or if it doesn't understand what you're saying then Siri will ask for more information or simply tell you they'll try better next time…Compare that to your wife.
Wife–
You: " Hon, remind me to call my bookie."
Wife: "What! YOU'RE GAMBLING AGAIN. I WORK ALL DAY AT THE POST OFFICE THEN 4 HOURS A NIGHT AT THE RESTAURANT. I COME HOME CLEAN THE HOUSE, DO THE DISHES, PUT SUPPER AWAY AND ALL YOU DO IS GAMBLE OUR LIFE SAVINGS INTO NOTHING?…I hate you.
As you can see, Siri is a great app, especially for a bachelor.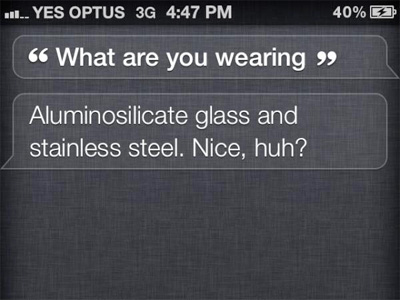 What Siri Does?
Siri's main areas of expertise at this time are scheduling meetings, finding contacts, making phone calls, giving weather updates, getting directions and more. The Siri development team is constantly advancing this technology and a simple question to Siri of "What can you do for me?" will return a multitude of results. Popular Siri features include posting to Facebook and Tweeting so if your social networking skills are offputting to your online friends, just blame it on Siri.
Like any relationship, Siri will also get to know your personality over time. The software will recognize what type of foods you typically eat, what people in your contacts list you call the most, important dates and times and general ways that you live your life. As your relationship with Siri evolves, it'll be like you have a friend in your pocket – somebody who really gets you…much like Tom & Katie (had).